Intro to Concession Trailers and Vending Carts
Supreme Products specializes in manufacturing Concession Trailers and Vending Carts for both food concession and merchandise vending applications.
Choose a Size that Fits You
We manufacture in our own plant, from the ground up, five sizes of concession trailers, ranging from 10 to 24 feet in length, and three sizes of vending carts, ranging from 4 to 8 feet in length.
Customized for You!
Order Exactly What You Want
More important though, is that we offer over 200 optional systems, features and equipment for our concession trailers and vending carts, and assemble the units to your order to fit your application and budget.
Naturally, options include installed food service equipment and graphics.
Professional Layout and Design
Prior to beginning construction on any of our concession trailers or vending carts, we prepare a scale CAD blueprint layout for your final approval and for the approval of your local health inspector.
We Have a Long History
Our company was founded in 1966 and focuses on producing the most durable concession trailers and vending carts on the market. We have hundreds of units in service throughout the world, and these units have proven themselves day after day in some of the most demanding circumstances.
Construction: All Steel - The Real Deal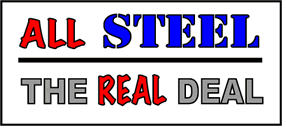 Our concession trailers feature as STANDARD equipment an all-steel welded unibody, including steel treadplate floor, steel roof, steel walls, steel lift-up awnings, steel inside working counters, steel overhead storage shelves, steel entrance door, steel chassis, steel axles and a heavy-duty forged steel ball coupler mounted on a REMOVABLE tongue.
Unlike all but the very best concession trailer manufacturers, we do not use wood, fiberglass, thin aluminum sheet, linoleum, vinyl or wallboard in our units, because these materials do not have the strength, repairability and long-term durability of steel. And, please don't be deceived by those who offer an 'all steel structured' design, since that is simply a steel skeleton frame to which wood, aluminum and plastic are bolted, riveted or glued.
Health inspectors across the United States have been impressed by our concession trailers' smooth white enameled steel interior surfaces, and the ease at which the inside of the trailer can be cleaned, including pressure washing of the floor and lower surfaces. Please don't try that with a wood floor trailer!
The frequent washdowns required in food service concession, catering, mobile kitchen and special events applications, combined with outdoor storage, exposure to the sun, and the vibration and shock encountered in travelling our roads and highways will take its toll on a lesser concession trailer, often shortening its life by many years, and vastly diminishing most of its resale value.
Something Smaller? - Consider a Vending Cart
Likewise, our vending carts feature a welded tubular steel frame, with stainless steel sides, floor, walls and countertop. Again, no wood, fiberglass, thin aluminum sheet, linoleum, vinyl or wallboard is used in the construction of these units.
Factory Direct Sales
We employ no dealers nor middlemen, so you are able to obtain the best service and pricing directly from our manufacturing facility.
Since you work directly with our factory personnel to authorize the final specifications, blueprint layout, and pricing on your concession trailer or vending cart, the potential for confusion inherent with purchasing through a dealer is eliminated.
Delivery
We can arrange economical common carrier delivery of any of our concession trailers or vending carts to you throughout the United States, or to your customs broker at the US-Mexico or US-Canada border, and we are happy to obtain a quoted freight cost for you. Alternatively, you are welcome to pick up your new unit here at our factory in Waco, Texas.
Lead Times
Our lead times vary with the time of year. Typically, we are able to ship a new concession trailer or vending cart within 60-90 days after an order is placed. From February through August, however, lead times can exceed 100 days, so we recommend you place your order early to avoid missing key events.
Terms
Our standard Terms require a 30% deposit with order, with the balance due on completion of the unit. Texas State Sales Tax is applicable unless you are Tax Exempt or unless the unit is shipped to you via Common Carrier to an address outside of the state of Texas.
Now, Compare our Value with all the rest
No other manufacturer of all-steel concession trailers offers the amount of customization and number of options in the price range that we do.
If someone does offer you a lower priced concession trailer, beware; you'll almost certainly find materials such as wood, fiberglass, thin aluminum sheet, linoleum, vinyl and wallboard in its construction. And, you'll probably have limited choices when it comes to designing, equipping and decorating the unit for your specific application.
Finally, unlike working with Supreme Products, it is highly unlikely you'll receive a full set of professional drawn-to-scale plans and mechanical specification sheets to take to your health department for pre-approval, prior to the beginning of any construction on your concession trailer.
We are able to offer great value in our price range for five reasons:
(i) a superior tried and true design that provides for manufacturing efficiency
(ii) many years of experience in engineering and manufacturing of our option packages
(iii) careful control of our manufacturing and administrative costs
(iv) plant location in manufacturing-friendly Central Texas
(v) factory direct sales to eliminate distribution markups
---
---